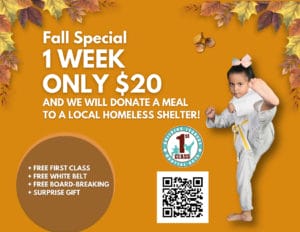 As the crisp autumn air ushers in the season of gratitude, 1st Class Martial Arts is thrilled to announce a heartwarming Thanksgiving initiative that's all about giving back and fostering community ties right here in Torrance, California.
Nestled at 17240 Hawthorne Blvd, our dojo has always been more than just a place to learn martial arts; it's a community hub where values are imparted, and lifelong friendships are forged. This Thanksgiving, we're taking our commitment to community service to new heights by hosting a special offer that serves those in need while promoting health and discipline among our young warriors.
For just $20, parents can enroll their child in a week of martial arts classes, where they'll learn more than just kicks and punches. They'll imbibe the core tenets of martial arts – respect, perseverance, and kindness. And the best part? Every single dollar of your $20 will go directly to the South Bay Homeless Shelter, helping to provide a warm Thanksgiving meal to our neighbors who are less fortunate.
But that's not all – we invite all parents to bring their children to try out a martial arts class absolutely free. It's an opportunity for kids to dip their toes into the world of martial arts and for parents to see the positive impact it can have on their child's development. Please click on the link to book a free trial class now. https://confidence.martialartsoffer.com/bookmulti
By joining our one-week martial arts challenge, not only are you giving your child the gift of fitness and focus, but you're also teaching them the power of generosity. Our goal is to turn kicks into kindness and punches into compassion, translating the energy of our classes into nourishing meals for those who need it most.
At 1st Class Martial Arts, we believe in the strength of our community and the importance of giving back. Let's make this Thanksgiving a time of bounty and benevolence. Enroll your child for a week of martial arts for just $20, and let's show our kids that their actions can make a significant difference.
Join us in making this Thanksgiving a memorable one for both our young students and for the South Bay Homeless Shelter. Together, we can demonstrate that in South Bay, we don't just talk about community values – we live them.
1st Class Martial Arts is more than a martial arts studio – it's a family. And this Thanksgiving, we're inviting you to be a part of our family's effort to spread warmth and wellbeing across our community. See you on the mats! Please click on the link to book a free trial class now. https://confidence.martialartsoffer.com/bookmulti